I'm sorry to tell you this, but some unpleasant and unexpected events are likely to take place during your freelance career. To help you anticipate what these events could be and to prevent them from impacting your business, I've created a disaster recovery exercise so you can implement steps and future-proof your business against every eventuality.
Disaster recovery exercise
Below you will find a series of themed 'disaster' scenarios along with actions you could take to either prevent or mitigate any impact on you or your client's business.
Now, each scenario may not play out exactly as described so take a minute to apply it to your own situation, mentally expand each one and then take it to its furthest, most extreme conclusion… imagine the very WORST that could happen.
Yes, I'm finally giving you permission to catastrophize!
Although I have provided some steps you could take to prevent or lessen any impact, the objective of the exercise is for you to create and implement your own personalised contingency plan.
Potential tech disasters
What would you do if:
Your laptop charger stops working
Your mobile phone goes under a bus
Your laptop crashes
Your house is burgled and your laptop is stolen
Your website is hacked
Your internet stops working
There is a prolonged power outage
More than one of these scenarios could happen at the same time.
You could mitigate damage by:
Having a spare laptop charger.
Having a spare smartphone.
Syncing your client contact details to Google Contacts or iCloud.
Working solely in the cloud or regularly backing up your data to the cloud.
Encrypting your Windows laptop with Bitlocker.
Setting up Dynamic Lock on your Windows 10 laptop. This means your laptop will lock as soon as your phone moves out of Bluetooth range.
Having a power bank.
Knowing how to locate and protect a Mac.
Using a password generator/protector such as LastPass, KeePass, 1Password or Dashlane.
Ensuring you have a strong password, your website is backed up daily (check with your hosting company) and has a security plugin such as Wordfence.
Adding your website to Uptime Robot so you're alerted if it goes down.
Learning everything there is to know about WordPress security.
Considering Office 365 for its security features.
Having a plan!
Potential client disasters
What would you do if:
You lose all your client contact details
You lose all your client's data and they threaten to sue you
Your client hasn't built their email list in compliance with GDPR and, as the Data Processor, you are now in trouble
You lose all of your biggest clients in the same month
You lose an Associate or they are sick just as your biggest client throws a huge project at you
Your Associate steals your client's or your client's data
Remember that more than one of these things could take place at the same time.
You could mitigate damage by:
Working in The Cloud.
Having Virtual Assistant insurance.
Not relying on just one or two clients for your income.
Working as an Associate to supplement your income.
Continuing to market your business and build relationships even when you are busy.
Making sure your clients have signed your Data Processing Agreement.
Register with the ICO (the Information Commissioner's Office) and sign up for their newsletter for updates.
Not having all of your clients in the same industry (how safe are your client's industries?).
Giving yourself wiggle room by never working right up to a deadline.
Putting regular amounts into an emergency fund and having a zero-interest credit card for emergencies.
Ensuring you have a watertight Associate Agreement.
Maintaining good relations with other VAs in case you need to outsource.
Making sure you have all the right processes in place before taking on an Associate.
Having a plan!
Potential health disasters
What would you do if:
You come down with food poisoning and you're practically living on your bathroom floor
You're completely floored by the flu or another illness for at least ten days
You start to develop RSI and your shoulder and/or wrist is agony
You became pregnant
You break the hand you write with and can't type for six weeks
You fall and sprain or break both wrists (you will instinctively put your hands down to break a fall)
Remember that more than one of these scenarios could take place at the same time.
You could mitigate damage by:
Never working right up to client deadlines.
Having an annual flu vaccination. (Please be sure to consult your doctor first)
Maintaining good relations with other VAs in case you need to outsource.
Putting regular amounts into an emergency fund and having a zero-interest credit card for emergencies.
Implementing preventative measures by investing in an adjustable desk, switching between using an upright mouse, using a separate monitor, making the font larger on your laptop so you're not craning your neck and having a physio massage on your neck and shoulders every couple of weeks. Yes, it's an extra expense, but if you don't look after your health, the cost will be even higher.
Writing and saving a "dear client, I'm sick" email and creating a client contact group so you or your partner can quickly edit and send it.
Considering health and/or income protection insurance. (it may only kick in after three months of illness though).
Practising with voice-to-text software – Microsoft laptops have built-in software but I've found some Chrome extensions such as Speechnotes are better.
Having a plan!
I know that you might say "I would just email my clients if I was sick", but I can tell you that when I came down with Norovirus the reality was very different. I remember lying on the sofa (I had previously been curled up on the bathroom floor so I was near the loo) and trying to text my clients in between vomiting.
I barely knew my name.
So please try to recall what it actually felt like when you last had flu, food poisoning or Norovirus!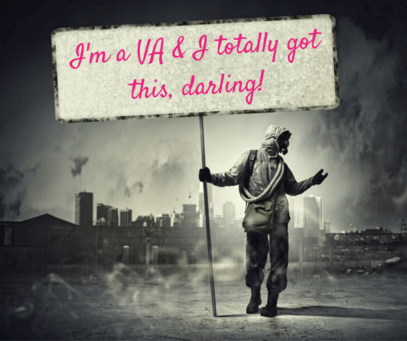 Real-life VA experience #1
This exercise was originally run as a five-day challenge in my trainee-only Facebook group and the following stories are from just two of those members. There were actually more.
"I am going to share the health issue that changed the way I work. In 2009 I had been self-employed for three years and had a large mortgage that I was wholly responsible for.
I was diagnosed with the big C and had six months of tests, operations, more tests, scans etc. Hospital appointments completely took over my life.
I had four regular clients, all of which were fantastic, and I was working about 120 hours per month. All clients suggested that I work when I could and that we would get through things together.
I have amazing clients. I worked when I could. I wanted normality and needed the money, but I dropped my hours by three-quarters for the first few months before gradually building it back up. This caused some money issues and I had to use some of my tax savings for my mortgage but luckily managed to get my funds back up in time to pay the tax bill. 
I listed all my important information; bank details, accountant info, client names and numbers etc and put these in a place for my sister to open if the worst happened. 
My biggest lessons: save enough money to cover my outgoings for six months. The last thing I need if I am ill again is money issues. I work with the right clients and have built brilliant relationships with them.
I share my ways of working with them (supplier details/invoice processes, etc) so that they can pick up and run with anything urgent when I am offline, be it holidays or illness. 
And in case of the worst-case scenario: I do my accounts online and my accountant can access this at any time, meaning that they would be able to ensure any outstanding payments are received. And, I keep the important information up to date and locked away in case someone ever needs it.
"Hopefully, I won't need to draw on any of this again but at least I know that I'm prepared."
Real-life VA experience #2
"I was one of those 'never took a day off sick' people until two years ago when a urinary infection which I ignored (drink lots of water and it will clear up on its own, keep on working) turned into fever and vomiting which I also ignored because my grandkids had a 24 hr bug a couple of days before and I thought I had caught it, turned into sepsis.
By the time I contacted the doctor, I was seriously ill. I spent a week in hospital barely able to open my eyes for the first 4 days, and then it took 5 weeks of recovery at home before I was even able to switch on my laptop.
Fortunately, I only had one active project which I just had to text the client and let her know I couldn't finish it, my retainer clients were all great and super understanding, but I didn't have a backup plan so they were all left without support for a couple of months while I got my brain straightened out.
Ultimately it led to the failure of my business because I had no income coming in, and when I got back to work I was working at reduced capacity. I got into debt and had to get a job at the end of it. I'm only getting back to freelance work now and I will definitely be putting a plan in place!"
So, as you can see, these things can and do happen.
Potential home and family disasters
The following scenarios are quite unpleasant so I'd like to apologise now for any anxiety and distress they may cause. However, it's highly likely that some or all of these things may happen to you at some point, so you should consider how they would affect your availability and income.
What would you do if:
Your partner loses their job.
Something serious happens to one of your parents such as an accident, cancer, stroke or dementia.
Something serious happens to you, your partner or one of your children such as an accident or an illness.
You encounter a large unexpected expense. Examples: the boiler breaks, your car needs new tyres, the water pipes burst, the roof needs fixing, your pet needs an operation, the upstairs neighbour floods your home, or you have a house fire.
Your car fails its MOT and you need it to get to client offices or onsite events you're supporting.
You get caught up in an extreme weather incident such as a hurricane, earthquake, flooding or serious snowstorm. This would mean your entire town had no electricity, mobile signal or internet. Although rare, this is not an unknown scenario.
Remember that more than one of these scenarios could take place at the same time.
You could mitigate damage by:
Putting regular amounts into an emergency fund and having a zero-interest credit card for emergencies.
Maintaining good relations with other VAs in case you need to outsource.
Having income protection insurance
Ensuring your laptop was always fully charged and you had an external source of power such as a power bank or portable mini solar panels
Using your phone as a mobile hotspot (if phone masts were still in operation)
Having household/car/pet insurance
Booking your car in for a regular service
Buying fire blankets and checking your smoke alarms are working
Having a plan!
Potential miscellaneous disasters
What would you do if:
You get stuck abroad due to an unforeseen incident (such as a volcano erupting or an airline going bankrupt), you don't have your laptop and you can't get home for at least a week.
You get hit with an unexpected £3000+ tax bill.
You're called for jury service. (You can sometimes be excused from jury service but only once and only at the Judge's discretion).
Any other awful thing that I haven't previously mentioned!
You could mitigate damage by:
Taking out travel insurance
Putting regular amounts into an emergency fund
Maintaining good relations with other VAs in case you need to outsource
Considering having a zero-interest credit card for emergencies
Bringing a spare phone or a tablet away with you
Working solely in the Cloud
Syncing your phone contacts with Google/Apple contacts and backing everything up to the Cloud
Having a plan!
Don't forget that your plan will change all the time.
When I first wrote these exercises, some of the solutions were ' go to an internet cafe' or 'work at a friend's house' or 'go to a co-working space'.
But when the pandemic hit and everyone went into lockdown, many of those options became unavailable – which is why it's really important to regularly review your contingency plan.
Conclusion
Whilst you hope that bad things won't happen, you also apply preventative measures in case they do. You wear a seatbelt in case you're in a car accident, you have a plan B in case it rains on your wedding day and you check your car is prepared for a long journey before you set off.
I didn't design this audit to scare you; I wrote it because I want the wonderful freelance business you have worked so hard to create to be protected against anything that life may throw at it – especially because a combination of these scenarios could happen simultaneously.
For example, you could get sick the same week as your partner loses their job, your house is flooded and you receive a large vet bill. Or you could fall off a bike and sprain both wrists (as I did in Copenhagen), your laptop dies and your car breaks down the day before you're due to deliver an important onsite client project.
So you need to think about how these incidents would impact your business, your client's business, your client relationship, your cash flow and your morale.
I say this because stressful incidents don't just have a practical impact, they can also affect the people around you (such as Associates, partners and family members) as well as your mindset, energy, motivation, and confidence – which will then affect how you react and manage the situation.
Also, you hope your clients will understand but you cannot assume. Your problems are not your client's problems. These are professional relationships and they are paying you to complete tasks by specific deadlines.
Homework
Work through all the scenarios above and look at the contingencies you already have in place, what steps you could implement now to prevent or reduce any impact, and what you would do if they happened.
Complete a SWOT analysis of every area of your business. I even have a blog post on how to do this.
Order a spare laptop charger (right this minute – go!) and consider getting a Chromebook as a backup machine.
Buy an external power bank.
Make sure you have a spare smartphone and your contacts are synced to the Cloud.
Start putting small, regular amounts into an emergency fund. If you save 30% of your income then you should have enough for your tax and a bit extra.
Brainstorm 'what if' scenarios with your family.
Check what your insurance policies actually cover.
Read the National Cyber Security Centre's small business guide to cyber security.
Read the Federation of Small Business's article on how to respond to a cyber security incident.
Make short walk-through videos (using Loom or Canva) on how you complete client tasks to reduce any impact should you fall sick or decide to give notice. These videos will also help train your Associates.
Talk to your clients about their own disaster recovery and contingency plan. They will have additional factors to consider if they sell a physical product, have an office, need a fleet of vehicles, rely on suppliers or employ staff members for example. You can also use this blog post to help them implement their own plan.
Create your own personal business contingency plan and put a reminder in your calendar to review it every six months.
---
Wanna bulletproof VA business?

If you want to make sure your VA business is rock solid and set up the "right" way, sign up for my DIY VA course and I'll walk you through the entire process.

With lifetime access and an incredible trainee-only support group, you'll be a confident business owner in no time. You can even pay in instalments.