Back when I did personal training, I mentioned to a friend that a couple of trainees had confidence issues. I'd given them every practical step they needed to become a VA, but I didn't have any more knowledge to impart and wasn't sure how to move them forward. He reminded me that I wasn't a therapist and asked if they'd completed a SWOT analysis.
I'd heard the term but I wasn't really sure what it involved so he gave me a brief outline and a couple of examples. I thought it was not only a great way to get my trainees to see what steps they could take to overcome their personal issues, but also a way to work through all kinds of different problems.
You can go into a ton of detail with a 'proper' SWOT analysis so I'm just going to give you the bare bones of the principle so you can apply it to any situation you're struggling with.
A SWOT 'lite' version if you like!
What is a SWOT analysis?
A SWOT analysis basically involves specifying the objective of a project or goal and identifying the internal and external factors that are favourable and unfavourable so you can overcome any obstacles that are in the way of reaching it.
It can be carried out for pretty much anything but I'm going to give you some examples further down so you can apply the analysis to different VA challenges you may encounter.
SWOT stands for:
Strengths
Weaknesses
Opportunities
Threats
Strengths
You're looking for things you do well and resources you possess such as knowledge, background, education, credentials, location, network, contacts, qualification, reputation or skills. You're also assessing tangible assets such as capital, savings, technology, advantages you have over your competition and any other positive aspects that add value or offer you a competitive advantage.
Weaknesses
These are things that detract from your ability to achieve the goal or task at hand and the areas that need improvement to accomplish your objective.
So it may be that you currently lack the resources, time, technology or skills (personal and/or business) to overcome the obstacle at this point.
* Strengths and weaknesses are internal and you can change them over time by putting in some work.
Opportunities:
You're looking to identify things that are available to you and that you can benefit from using such as people or groups that can provide practical advice and/or training.
Threats:
These are external factors beyond your control that could place your goal or business at risk. You have no control over these things but will benefit by having contingency plans in case they occur.
These are things like competitors, rising supplier prices, shifts in consumer behaviour/the economy or a new product or technology that might make your product or services obsolete.
* Opportunities and threats are external, are happening whether you like it or not and are things you can't change.
An example of a SWOT analysis:
A hat company is looking to set up business on Etsy and wants to assess the viability of their business.
STRENGTHS:

Expertise – the founder has 15 years' experience making hats
Low overheads – it's cheap to open an Etsy store
Exposure – the customer reach through Etsy is high
Stock – the founder has a number of vintage hats they can replicate
WEAKNESSES:
Time – the founder is doing everything themselves
Marketing – the founder has no marketing experience
Fear – the founder is afraid to fail
OPPORTUNITIES:
Partnership – the founder could co-promote with other Etsy vintage fashion sellers.
Business training – the founder could take some sales or marketing training provided by Etsy. They could take external courses. They could do a skills-swap with another business owner. They could learn from Etsy partnership stores.
Personal development – the founder could take a workshop or course/training on how to overcome the fear of failure. They could ask other business owners how they overcame their fears. They could read as much as they could about overcoming fear.
Interns – they could hire an apprentice or intern to help with sewing or marketing.
THREATS:

Server errors – the Etsy store could crash
Supplier problems – vintage fabric comes from a unique supplier who could go out of business
Competition – a new competitor could knock them out of the market
* The example above was adapted from one I found online.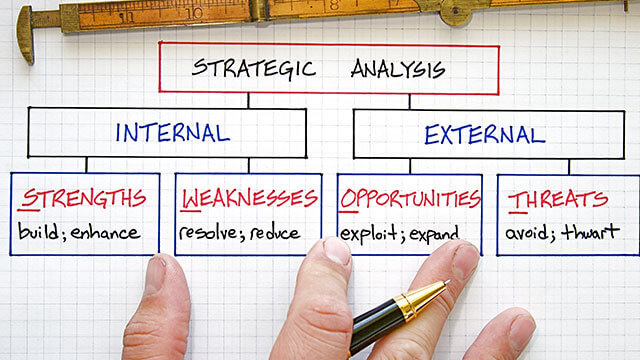 Some Virtual Assistant examples of SWOT analysis:
EXAMPLE ISSUES:
– I can't network because I work full-time or have childcare issues
– I don't have any confidence to market myself and I'm scared I might fail
– I don't know if I can earn enough money
– I don't know if my niche is viable
– I have clients but need more income

EXAMPLE STRENGTHS
I have a strong skillset
There are lots of businesses and network groups in my town
I'm virtual so it doesn't matter if there are no businesses or groups where I live
I have a good reputation with my existing clients
I'm still working full time so am not desperate for money at this point
I have access to a wide variety of contacts through my past and present employers
I still have a job so have a regular guaranteed income
I've overcome many challenges throughout my life and I am resilient and resourceful
I have a lot of friends and family and know a lot of other Mums
I have a positive perception of my business, skills and abilities
I have a degree/masters/training in this subject
I have savings and/or my partner can support us both for a while if necessary
I can work from home so don't need an office
There are minimal start-up costs with becoming a VA compared to many other businesses
EXAMPLE WEAKNESSES:
I don't have the money to get a website or on the front page of Google
I don't have any confidence
I think my skills might be outdated
I don't have any clients or a reputation yet
I don't have much of a marketing budget
My website is outdated and doesn't convert well
I live in a remote location
* Note that many of your strength and weaknesses may be reversed when applied to different situations. So living in a remote location might work to your advantage in another analysis.

EXAMPLE OPPORTUNITIES:
Look for early morning, lunchtime, evening or weekend networking events
Look at identifying free marketing avenues such as LinkedIn
Ask local and industry-specific LinkedIn groups and other VAs to ascertain if my niche is viable
Share childcare and/or costs with other parents or tap family members for babysitting whilst I network or work on building my business
Ask other business owners/VAs/Mums how they manage networking whilst working full-time or with kids
Offer existing clients a free hour for every referral who becomes a paying client
Learn how to build the website myself or skill-swap with a new web developer
Use an About.me page to get my first client and then pay for a professional one when I get paid
Get a quote then save up, it's unrealistic to think I can set up a professional business without spending any money
Get testimonials from past employers and colleagues so I can prove my expertise, reliability and value
Speak to other business owners and specialist freelancers
Optimise my website for local search instead
Do one of Jo's VA training courses and just follow the steps she gives me
Work out how much money I need to live on each month so I know what I need to earn
Watch a VA video interview to see what life is really like as a freelancer and if it's for me
Read the VA interviews to see how they got started and what services they offer
Talk to wannabe and existing VAs in the VA Handbookers Facebook group about my fears and ask for practical advice
Make myself different than other local VAs by having a unique voice and brand and by proactively contacting my target market
Do some free or paid marketing training
Learn a new skill that will guarantee a good income while I expand and grow or one that I can use as an add-on to my existing services
Review and raise my rates
Learn everything I can about pricing and then create package options when prospects ask for quotes ("for £x I can do this, but for £x I can do that AND this")
EXAMPLE THREATS:
I could get made redundant from my job before I get enough clients
The economy could collapse and negate my savings
My computer might break
There are other VAs in my area
CONCLUSION
Freelancing isn't for everyone. There is no guaranteed income, you have to learn how to manage people and you have to market yourself constantly. So you may decide not to set up your VA business until you have enough money saved to last a set amount of time or until you've taken steps to conquer your fear of failure or lack of confidence.
Do not become a VA because you need the money and think it's an "easy side gig".
But if working for yourself is something you want to do then undertaking a SWOT analysis will help you see the opportunities (I like to think of them as options) and therefore the steps you need to take to achieve your objectives and manage the different types of challenges you will encounter on your freelance journey.
---
Is it time to set up your business?

If you're done reading and ready to start doing then consider enrolling in my flagship DIY VA course.

With lifetime access and an incredible trainee-only support group, I guide you through the entire process and do my utmost to help you succeed.