Although Jan Baber loved her job, she wanted to find out what her full potential was and if she could actually reach it. Jan knew that she was never going to make the sort of money she wanted by working for somebody else, and because she also wanted more quality time at home as well as more money, Jan decided to set up her own Virtual Assistant business.

Hi there! My name is Jan. I'm 56 years old, live in the south-west of England between Bristol and Gloucester, I'm married and I have three grown-up children: two daughters and one son ranging in age from 20 to 33.
Why did you decide to buy Jo's DIY VA course?
I actually did freelance secretarial work about 29 years ago when my son was born but of course, it wasn't called being a Virtual Assistant back then.
Over the past six or seven years, I'd been doing transcription work for a friend and my previous employer in the evenings and I'd been considering the possibility of doing this full time as a freelancer to enable me to have more quality time at home and, of course, more money.
Although I was in a well-paid job that I loved, I knew that I was never going to make the sort of money I wanted and needed by working for somebody else.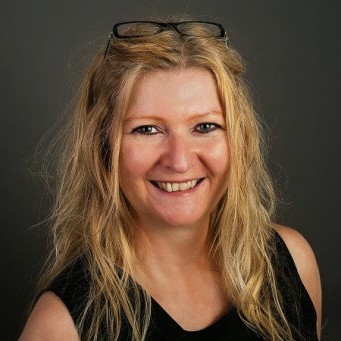 I started Googling for inspiration on how to put this plan into action and almost immediately came across Jo's website. As soon as I started reading all the info I knew straight away that I wanted to do the course.
Every time I went back to the website I found something else that I could learn about. There was so much information there on just about everything you might need to know about being a VA.
I originally thought that I would try and build my business alongside working my full-time job but this proved very hard indeed.
By this time I had started the DIY course and knew what I needed to do, but I didn't have the courage to give up my salary.
The crunch came one day when my buttons were pushed once too often at work and it gave me the kick that I needed to jump in at the deep end and go for it. I handed my notice in, got in touch with a designer I knew to help me get a website up and running ASAP and then I ordered my business cards and some flyers.
Six months later I haven't looked back and have no regrets whatsoever – other than I wish I had taken the leap years ago!
I did look at another course but I think it was on an American site and I didn't really consider it seriously because Jo's had everything I was looking for.
Did you feel confident the course would make you a VA?
I suppose I had my doubts but that was more in myself rather than the course itself. The course covers everything you need to set you on the right track, but if you haven't got the confidence in yourself it won't happen.
I did the course alongside my full-time job and yes it was difficult sometimes to motivate myself at the end of the day, but I am not a great one to sit still for very long anyway and I don't recall it being too much of a hardship.
Also, when you know what you might achieve at the end of something, it's easier to get cracking with it!
What is the course like and how did you find it?
The course was perfect for me. If it hadn't been then I doubt very much I would have completed it. I particularly found the assessment that Jo sent me after I completed my Personal Workbook really useful.
The course is very easy to follow and I like that you can go at your own pace and go back and re-do parts as many times as you need. It was in easy to understand language and easy to find your way around.
The Q&A sessions were also very helpful and it was nice to hear and see how other people on the course were finding things and to learn from their questions and Jo's answers.
I found the private trainee Facebook group extremely useful – there is so much knowledge out there and everyone is so happy to help each other. It is really lovely and encouraging.
The best thing about the course though is that it's affordable for everyone and Jo is always to hand to help you along the way.
How are you getting on after finishing it?
I pretty much hit the ground running and have been very fortunate to have been ticking over quite nicely apart from a couple of quiet weeks this August but it's picked up again now. I presently have four regular clients on a retainer and the rest are ad hoc although I have two more hopefully in the pipeline.
I wouldn't say I have found my niche yet but I'm loving the variety of the people I have been working with; these have ranged from the music producer of a well-known rapper to a business coach, a yoga teacher, an insurance broker, a hairdresser and others!
The kind of tasks I've been doing include email management, reconciling bank statements, a fair amount of transcription work (which I love doing!), taking minutes at meetings, helping with a new logo and website for a new company, booking flights, trains and hotels, and even sourcing a wedding venue!
Is your life very different now to how it was before?
I absolutely adore being a VA and it certainly has given me more freedom in my life.
I am working fewer hours than I was when I was employed and earning nearly as much as I was then – but not quite yet. That said, I am actually putting a LOT of hours working ON my business i.e. networking, advertising, learning about SEO and such things, tweeting, trying to Blog (still learning) and generally getting my name and brand out there.
I'm so pleased I took the leap and don't ever see myself regretting it.
I'm still getting used to the days when I have no work to do and trying not to panic but instead to enjoy the free time to do something else because, sure as eggs are eggs, it's usually the lull before the storm and the next couple of days prove to be hectic!
I feel much more confident as a person and whilst networking isn't my favourite thing, if you'd said to me a year ago that I would be standing up in front of a room full of strangers talking to them about not only my work but MY BUSINESS, I would have laughed my socks off.
I'm really quite proud of myself.
If you're considering taking the DIY VA course then my advice would be to just do it! Don't hesitate because life really is too short to worry about the 'what if's'.
---
Ready to set up your own business?

Then follow in Jan's footsteps by signing up for my flagship DIY VA course.

With lifetime access and an incredible trainee-only support group, I hold your hand through the entire process and support you all the way.