I really like telling you guys how to set up and become Virtual Assistants but I realised recently that it might be nice if you knew a bit more about me. So after racking my brain for an inordinate amount of time and deleting some rather incriminating and over-shary details, this is what I've come up with… don't judge me!
1) I'm a massive Trekker
Alright, so you probably already know this about me, but I bet you didn't know I love Star Trek enough to have attended a convention. Oh yes, this nerd not only knows the difference between a Vulcan and a Romulin, she once spent a day surrounded by people wearing Federation uniforms enviously wishing she had (a blue one obv) one of her own.
* Trekkies are what non-Star Trek fans call Trekkers – don't get caught out!
2) I didn't learn to drive until I was 40
Pathetic really but I'd just never gotten around to it. I moved to Brighton when I was 23 and you don't need to drive a car here plus you can't afford the to park even if you did. I spent around 90 hours over five weeks and passed first time but I have to admit that I found it really, really hard.
Three words: Effing. Clutch. Control.
3) I'm a high functioning introvert
People often think I'm an extrovert because I find it easy to talk to strangers, but it's a myth that introverts are shy. An extrovert is someone who is energised by being around other people, whilst introverts feel recharged when they spend time alone.
I love my own company and I feel drained if I spend lots of time with large groups of people or if I'm around others without having any time to myself. I can do it, but I get narky if I don't get space and I much prefer spending time one-to-one or in small groups.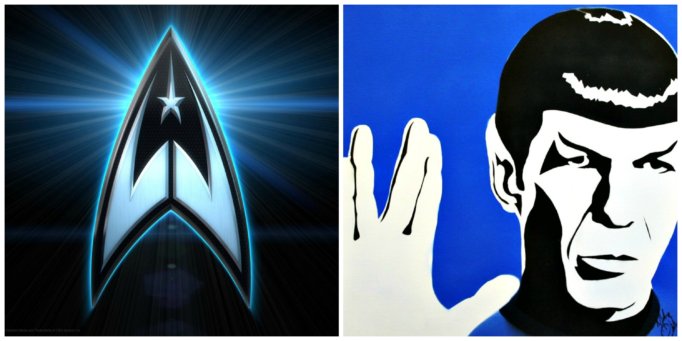 4) I'm terrified of spiders 
I'm not just a little bit scared of spiders, I'm completely petrified of them. I've had numerous truly horrific experiences and even the thought of them makes me feel panicky. I certainly can't get near enough to kill or trap one by hand so (top tip but this may horrify you) I kill them with Cillit Bang… one spray and BANG! The spider's gone.
5) I detest cooking 
I love food, I just have zero interest in preparing it. To me cooking is mind-numbingly dull and something I actively dislike doing. Other people find it creative and relaxing, but it bores me to tears and I feel frustrated that dinner takes such a massive effort to prepare but only 10 minutes to eat.
Cooking is such a massive waste of time I would stop doing it if I knew I wouldn't starve to death or get scurvy.
6) I don't pronounce my th's correctly
I've never been able to properly pronounce words with a 'th' sound in them and I say fings, fanks, vis and vat instead. A friend of mine always laughs when I ask "do they?" because it sounds like I'm saying duvet!
Nobody corrected me as a child and although I sometimes feel a little self-conscious, it's just the way things (fings) are.
I am well aware that I probably sound like an imbecile though.
7) I hate New Years Eve
I've never been fussed about New Year – or 'forced fun night' as I like to call it. If I recall you have to buy something new, spend loads of money, queue for ages for an overly expensive drink in a rammed pub, get drunk, feel a bit awkward at midnight, risk hypothermia trying to get home on foot or pay £250 for a taxi (if you're lucky enough to find one), pick your way through pools of vomit, then wake up the next day feeling rough as a badgers behind… I haven't missed anything have I?
* Saying that, I spent New Year 2016 abroad in Oman. I slept out under the stars on the deck of a traditional Omani Dhow, swam and snorkelled in the Indian Ocean on New Year's Day and had the best time ever. So maybe I just hate New Year at home!
8) I live on holiday
I live in Brighton which is one of the best places to live in the UK. I moved from Buckinghamshire when I was 23 and it still feels like I live on holiday. After cinema, the longest and most fulfilling love affair of my life has been with Brighton and I'm still absolutely bonkers about the place.
9) I'm always inappropriately dressed for the weather
I'm a grown woman yet it's a well-known fact amongst my friends that I will ALWAYS be inappropriately dressed for the weather. If it's really hot then I'll be the one in the black ninja-like outfit (probably wearing a polo neck), and if it's freezing I'll have a really flimsy coat or no socks on.
I'm actually an exceptionally organised person, just not sartorially for some reason.
10) I collect Funkos and Lego Minifigures
Although I don't have tons and tons of them, I have a fair amount of Funkopops, Bobbleheads and little Lego Minifigures.  I have one large printer's trays full of assorted Lego peeps and a smaller one dedicated to zombie Lego figures, which is a mix of 'regular' zombies as well as Walking Dead figures.
I mean, what self-respecting VA doesn't categorise their Lego? 
I haven't sorted an adequate display system for the Funkos yet so they're just randomly located throughout my flat. I sometimes walk around my flat and look at them when I'm brushing my teeth.
Which isn't at all weird right?

11) I'm scarily well prepared for the zombie apocalypse
Obviously I intend to be one of the people not turned into one of the shambling undead so I've spent more time than is probably healthy thinking of the best way to survive the apocalypse including escape routes, weaponry and what I'd pack in my bug-out bag*.
* An axe, a wind-up radio, my glasses (plus a spare pair), a penknife, a maglite, a lighter, penicillin, a map of the UK, water and water purifying tablets, warm layers and my house keys in case you were wondering.
12) I'm obsessed with puppies 
I'm not a person who coos over babies, but when I see a puppy or small dog in the park I'm beside myself – especially if it's wearing a neckerchief or sweater! I would so love a little dog of my own but because I love my freedom, think you need to put a lot of time into training, and I travel quite a lot, I won't get one until I'm much older and have decided to settle somewhere.
13) I'm uneducated
I only got five GCSE's and one A-Level. I didn't go to university but I'm resourceful, resilient, adaptable, constantly learning and I've always been determined to achieve whatever I set my mind to.
I am definitely proof that you don't need to be traditionally educated to have a happy and financially successful life on your own terms.
14) I detest bracket faces and LOLs
I don't mind a proper little emoticon but I can't bear smiley faces made with brackets or when people write LOL or ROFL or some other equally annoying acronym. Some people think you can't tell how a message is intended if there isn't some stupid face in it – whereas I think that if you can't express yourself clearly without using brackets then you don't have a good enough grasp of the English language and should rewrite your message.
Most of my friends disagree but they're clearly wrong.
15) I'm a huge history nerd
Nothing excites me more than a medieval castle and a good amphitheatre. I'm really into the history of the English monarchy (especially the Tudors) and I rarely read fiction. Instead I can usually be found reading books on The Reformation, Pompeii or forensic archaeology before I go to sleep.

16) I'm mental about films
I would definitely class myself as a film nerd. The cinema is like a second home to me (it smells like popcorn and dreams) and I go as often as I can. I particularly like disaster and zombie films (watching people run and panic en masse delights me) and I love the Coen Brothers, Woody Allen and Wes Anderson films. I'll often go to see a film more than once and I can talk about films for hours.
17) I crochet
A few years ago I decided to learn a hobby that would take me away from my computer screen so I taught myself to crochet with a book and YouTube (the irony of learning from YouTube is not lost on me). I particularly like making blankets and I sometimes teach other people how to crochet.
18) I have a Scanner personality 
I've always hated routine, doing just one thing and predictability but a few years ago a Career Coach friend diagnosed me as a Scanner and my life suddenly made sense. Scanners are people who like variety but sometimes have so many ideas they're paralysed with indecision, or they start lots of things and never finish them.
I then found a brilliant life-changing book called Refuse to Choose!: A Revolutionary Program for Doing Everything That You Love by Barbara Sher, discovered I was a cyclical plate-spinning Scanner and learned loads of practical ways I could get everything done without going mental. It was a revelation actually.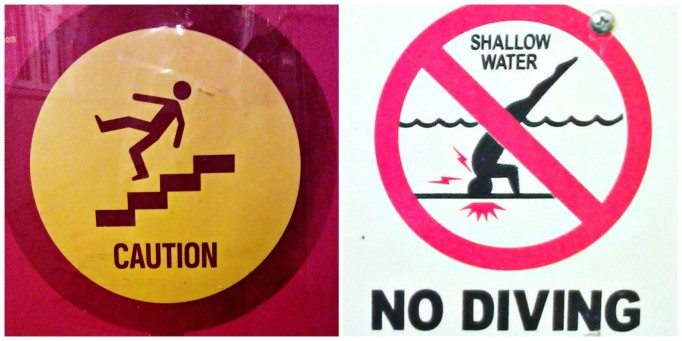 19) I changed my surname by deed poll
I'm not going to tell you what my original surname was but I never felt like it suited me and the only person with the same name is my biological father – who is a baaaaad man. So I changed it.
I incorporated the spelling of my step-father's surname (Munn) and reinvented myself with my own self-chosen surname of Munro when I was in my early 30's. I also removed my middle name of Tracey (can you tell I was born in the 70's?!) and replaced it with the initial T. So my legal name is now Joanne T Munro instead of Joanne Tracey surnameihated.
20) I collect photos of signs
This is kind of a weird one but I'm fascinated by bonkers safety signs. I have a whole folder full of surreptitiously-taken photos from around the world of images showing what will happen if you do something stupid.
They amuse me greatly and made me inordinately happy.
Afterthought
Of course there are loads more such as my obsession with Italy, my love of funny swear words, my coffee snobbery and how I ruined my Girl's World by drawing a beard on her – but I really should stop now before you decide I'm actually a mentalist and call Social Services.
Now it's your turn. Do you share any of my foibles and can you relate to any of my experiences? Dear reader, let's talk about you…