When you decide that you're going to become a Virtual Assistant and take over the Universe, one of the things you'll need to do is tell HMRC you're no longer working for The Man but for many men (and women) instead. The information below is based on current UK tax laws so please check what your own government requires if you live outside of the UK.
* This post was last updated on 6th April 2023.
Because most UK VAs (and freelancers, in general) are Sole Traders rather than Limited Companies, and because this post would be so long and complicated your head would explode, this post is focused on Sole Trader tax and National Insurance (NI) only.
When do I tell HMRC that I'm self-employed?
You tell HMRC when you start earning income from freelance work even if you're still being paid by your employer. This should be done by the 30th of October – see key dates at the end of this post.
Should I set up as a Sole Trader or a Limited Company?
Great question. There are a few differences between the two, but the main one is that when you are a Sole Trader, any business debts are your debts and any personal assets – including your house if you own it – are not protected if someone decides to sue you.
With a Limited Company, the structure is different, tax thresholds and payments are different, how you pay yourself is different and any debts belong to the company and not you. So nobody can take your house away.
You also need to register your business with Companies House which you do not do if you are a Sole Trader.
In my opinion, it's also more complicated to incorporate and submit your tax returns. I was advised to become a Limited Company after I bought an apartment but I was a Sole Trader before then.
I personally think it was easier being a Sole Trader as I now have to rely on my Accountant to help me.
How do I register as a Sole Trader?
When you start working for yourself in the UK you need to let HMRC know your situation has changed so they can update their records.
You do this by going online and completing this form. which registers you for self-assessment and National Insurance (NI) contributions.
HMRC will then send you a Unique taxpayer reference (UTR) via the post within six weeks.
What's the Unique Tax Reference for?
Your UTR is used to submit your personal tax return online.
After you register for self-assessment, you will be sent a letter that contains your UTR, then they will send you an activation code so you can sign up to the Government Gateway website and submit your tax return.
IMPORTANT – It can take a few weeks to receive your UTR so register ASAP to allow plenty of time to receive it. This is so you can submit your online tax return before the 31st of January deadline and avoid a fine.
Current tax rates and allowances
How much Income Tax you pay in each tax year depends on:
How much of your income is above your Personal Allowance.
How much of this income falls within each tax band.
The 2023/24 Personal Allowance (this is the amount you are allowed to earn before you have to pay tax on it) is £12,570. This amount is to be frozen until 2026.
Your Personal Allowance may be bigger if you claim Marriage Allowance or Blind Person's Allowance and it's smaller if your income is over £100,000.
Income tax rates and bands (2023/24)
The table below shows the tax rates you pay in each band if you have a standard Personal Allowance of £12,570.
This screenshot of figures was taken from the HMRC income tax rates page which contains other links you will find useful.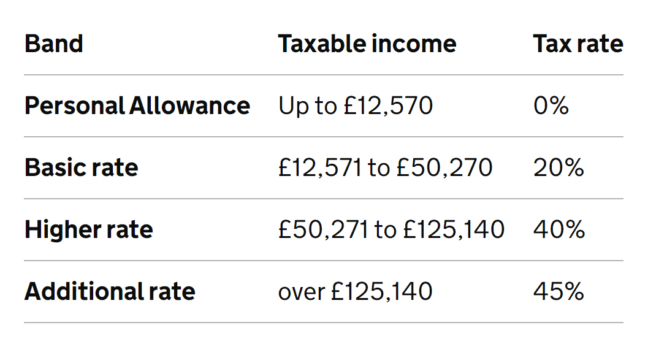 You may have tax-free allowances for your first £1,000 of income from self-employment which is known as your 'trading allowance'.
You do not receive a Personal Allowance on taxable income over £125,140.
National Insurance Contributions (NIC)
If you're self-employed and your profits are £12,570 or more a year, you usually pay Class 2 and Class 4 National Insurance rates.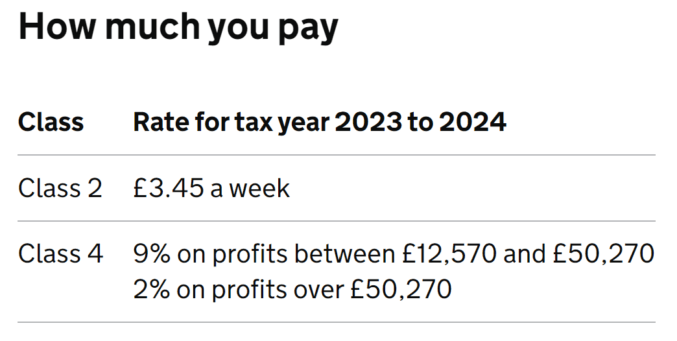 When you register with HMRC as self-employed, the registration covers both income tax and National Insurance so your NIC is calculated and paid in one go when you do your self-assessment tax return rather than taken monthly.
Read more about National Insurance on the HMRC website.
Check how much you have paid in National Insurance Contributions.
What financial records do I need to keep?
It is a legal requirement in the UK to keep business records as evidence of what you've earned and what you've spent each tax year.
HMRC could also look into your tax returns or claims and if they do they'll obviously want to look at your records.
You must keep records of:
All sales and income
All business expense receipts
VAT records (if you're VAT registered)
PAYE records if you employ people
Records about any personal income
Cash books
Invoices
Mileage records
Bank statements and chequebook stubs
Your P60s if you're also employed
When it comes to doing your tax return, you will also need to submit other info such as how much you have invested in your business as well as any money you have invoiced for but not yet been paid.
Read more about the business records you need to keep.
How should I keep my financial records?
You should keep your records either on paper or on your computer. For electronic records you must:
Capture both sides of a document
Save all information in a readable format
Keep a back-up
How long do I need to keep my financial records?
You need to keep business records and receipts for at least five years after the 31st January submission deadline of the relevant tax year.
So if you submitted your 2021 to 2022 tax return online by 31st January 2023, you must keep your records until at least the end of January 2028.
What happens if I lose an expense receipt?
If you don't have a receipt for a cash expense then just make a brief note of the amount you spent, when you bought it, and what it was for.
What happens if my records are lost, stolen or destroyed?
If you cannot replace your records, you must do your best to provide figures. Tell HMRC when you file your tax return if you're using:
Estimated figures – your best guess when you cannot provide the actual figures.
Provisional figures – your temporary estimated figures while you wait for actual figures (you'll also need to submit actual figures when available).
How do I complete my self-assessment tax return?
As you will have already registered for self-assessment, HMRC will contact you to ask you to submit your tax return.
I don't know anyone who files a paper tax return so you will probably be filing your tax return online.
The UK financial year runs from 6th April one year to 5th April the next year and you submit figures for the previous tax year.
So, in October 2023 (if filing a paper return) or January 2024 (if filing an online return) you're submitting your income and expenditure for the period between the 6th of April 2022 to the 5th of April 2023.
It's difficult to explain exactly how to fill out your tax return because your answers will depend on your personal financial situation such as income from other sources (property rental, dividends, benefits etc), savings, and any investments you may have.
There are quite a lot of questions to answer though which is why you shouldn't leave it until the last minute!
Can I do my own tax return?
My accountant does my tax return as I'm a Limited Company but I did my own when I was a Sole Trader.
It's not massively hard but it's not particularly enjoyable!
I used to feel quite anxious when I did my tax return in case I messed it up, so even though I have to pay him, I know that my Accountant isn't going to balls it up.
He also provides a lot of additional value simply by advising me on ways to save money and being there to answer any tax-related questions I may have.
I guess it's one of those things where you can do it (and many weirdo VAs actually enjoy doing it) but you may want to get an Accountant to help you simply for peace of mind.
What happens if I miss the tax deadline?
The deadline for submitting your online self-assessment tax return is January 31st and you will have to pay a late filing penalty fee of £100 if your return or payment is up to three months late.
You'll have to pay more if it's later than that and you'll also be charged interest on late payments.
So if you receive a letter from HMRC telling you to file your tax return, you must comply even if you do not owe them anything.
What if I can't pay all of my tax?
HMRC has a thing called Time to Pay where you can pay in instalments if you're having difficulties. However, you can only do this if you have:
Filed your latest tax return
Owe less than £30,000
Are within 60 days of the payment deadline
Plan to pay your debt off within the next 12 months or less
Read more about Time to Pay here.
Can I submit my tax return early?
You can actually file your tax return for the previous tax year any time after the beginning of the new tax year.
This means you can file your 2023-24 Self Assessment tax return any time between the 6th of April 2023 and the 31st of January 2024 if you want to get ahead.
There are a few benefits of submitting your tax return early:
Payments on Account (outlined below) are future payments towards your next tax bill which have been calculated based on your previous one. But if you submit your tax return early you have a heads-up on how much your bill will actually be so you can plan your finances.
If you've overpaid tax, you should get a refund sooner.
Knowing in advance how much your tax bill will be means you can plan your finances and have the put the money put aside.
If you're not sure if you can pay your tax bill in one go and may need HMRC's Time to Pay payment plan, you can only do so if you have already submitted your tax return.
You have to pay ahead (payment on account)
You may not be aware of this, but you also have to pay a percentage of the next year's tax and National Insurance in advance. So this is in addition to the tax you're paying for the previous tax year.
It's a nightmare and many freelancers get caught out by this.
HMRC take one Payment on Account at the end of January and the other at the end of July. These are a combo of advance tax and National Insurance payments towards your tax bill.
Each payment is half of your previous year's tax bill and payments are due by midnight on 31st January and 31st July.
You have to make two payments on account every year unless:
Your last Self Assessment tax bill was less than £1,000.
You've already paid more than 80% of all the tax you owe, for example through your tax code or because your bank has already deducted interest on your savings.
If you still have tax to pay after you've made your payments on account, you must make a 'Balancing Payment' by midnight on 31st January next year.
Here is more info on Payment on Account including examples.
Making Tax Digital (MTD)
Under MTD, self-employed people will be able to send HMRC summaries of their income and expenditure at least four times a year and submit quarterly tax returns through online accounting platforms such as Xero, QuickBooks, Sage, FreeAgent etc.
HMRC says this will enable a more ongoing and accurate projection of tax due, as opposed to the current system of one tax bill every year.
I personally think MTD is a good idea because it will allow you to make a more accurate financial forecast.
Although the UK government says that Making Tax Digital will not come into play until at least April 2026 (and they've already moved this date back a few times now) it's worth knowing what it is so you're prepared for when it does come into force.
According to HMRC, from April 2026, self-employed individuals with an income of more than £50,000 will be required to keep digital records and provide quarterly updates on their income and expenditure to HMRC through MTD-compatible software.
Those with an income of between £30,000 and £50,000 will need to do this from April 2027.
Most customers will be able to join voluntarily beforehand meaning they can eliminate common errors and save time managing their tax affairs.
You can read an overview of Making Tax Digital here.
Key dates and deadlines
As mentioned, the UK tax year runs from the 6th of April to the 5th of April so your accounts need to be calculated from and to these dates. We are currently in the 2023/2024 tax year.
HMRC key dates for the self-employed.
31st January is the deadline for filing an ONLINE self-assessment tax return. It's also the deadline for the first Payment on Account payment and any Balancing Payments. National insurance contributions are calculated and paid automatically when you submit your return.
31st July is the deadline for paying your second Tax on Account instalment.
5th October – newly self-employed people need to register with HMRC for self-assessment by this date so that they know you need to complete a tax return next year. If you've already registered as self-employed, you don't need to do this again.
30th October is the deadline for submitting a PAPER tax return. National insurance contributions are calculated and paid automatically when you submit your return.
30th December is the date that if you're also employed, you can choose to pay any tax due through your PAYE code instead of making a big payment on 31st January. (But only if you submit your tax return before 30th December.)
How's your head doing? Exploded yet?
Takeaways
As you can see, UK tax laws are a complete ballache and things like personal allowances and NI rates usually change each financial year.
I'm afraid you do need to make sure you stay on top of this stuff because HMRC are serious folk and they do not take ignorance as an excuse.
Always check with HMRC if there's anything you're not sure about (I've provided a link to their online chat below) or pay an Accountant to make sure you're compliant.
I update this post on the 6th of April every year to reflect any changes and I always make sure the post is up to date if any major changes are made that will affect self-employed people.
Resources
Disclaimer: I am not an Accountant and take no responsibility for the financial information published on this page. While I have obtained this information from official sources, please always confer directly with HMRC or a qualified Accountant.
---
Looking for legal contracts?

Whether it's a client contract a DPA or website policies, you need to have the legal stuff in place so you don't get sued or screwed!

Written by an international contracts lawyer specifically for VAs, all the docs are updated and resent to buyers free of charge any time the law changes.